The New Year is a great time for self-reflection. As a company that prides itself on providing life-changing medicine to our consumers, it's important to examine the ways in which we can be better at serving our communities. That's why this year, we want you to help us help YOU! Get involved with Green Earth Co. and let us know how we can improve!
Here are a few goals that we have for ourselves this new year and a few ways YOU can help us achieve them:
1. Keep our community informed
We believe in providing affordable, accessible cannabis options to a wide array of consumers. We want to make sure no one misses out on all the things we do to provide our community with affordable purchasing options! That is why this year our goal is to keep you informed about all the deals, discounts, promos, and events we have lined up for the new year!
How can you help?
Sign up for our Newsletters! Every month we send 1-3 email newsletters detailing all of the events and promotions we have planned for that month. If you or someone you know wants to know everything we have planned ahead of time, sign up for our monthly newsletters at the bottom of this webpage!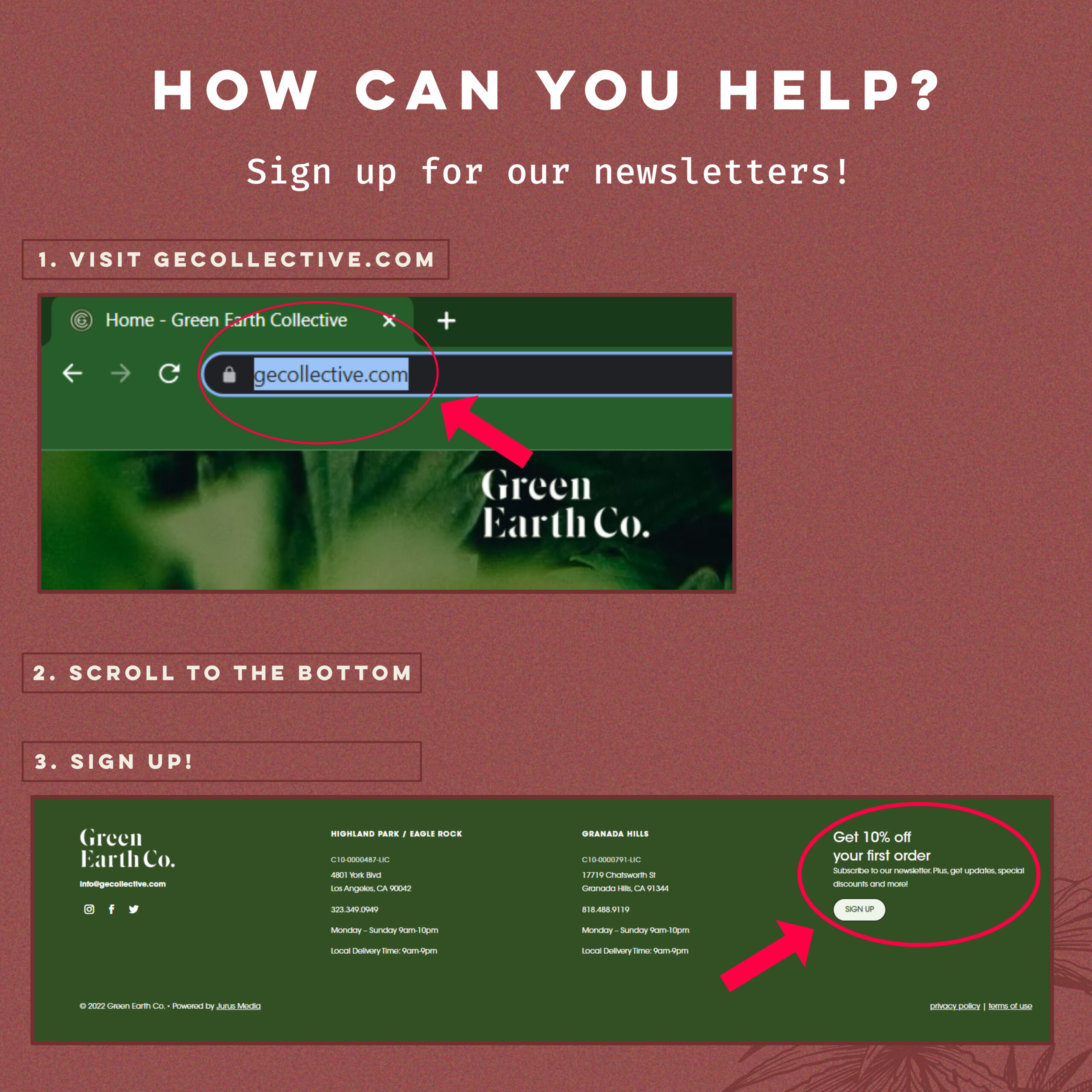 2. Serve more people in our community
At Green Earth Co. we recognize the ever present need to destigmatize cannabis and all of the negative connotations that are inherent within our industry. That is why this year we want to extend our reach beyond our normal customer base and reach those who may be skeptical, apprehensive, or simply uninformed about all the holistic, spiritual, and social benefits of cannabis!
How can you help?
Refer a friend! Cannabis is a labor of love and it is meant to be shared with friends and family alike. We are always eager to introduce newcomers to the wonderful world of cannabis. That is why when you bring a friend to your local GEC, we offer 15% off your purchase. Sharing is caring!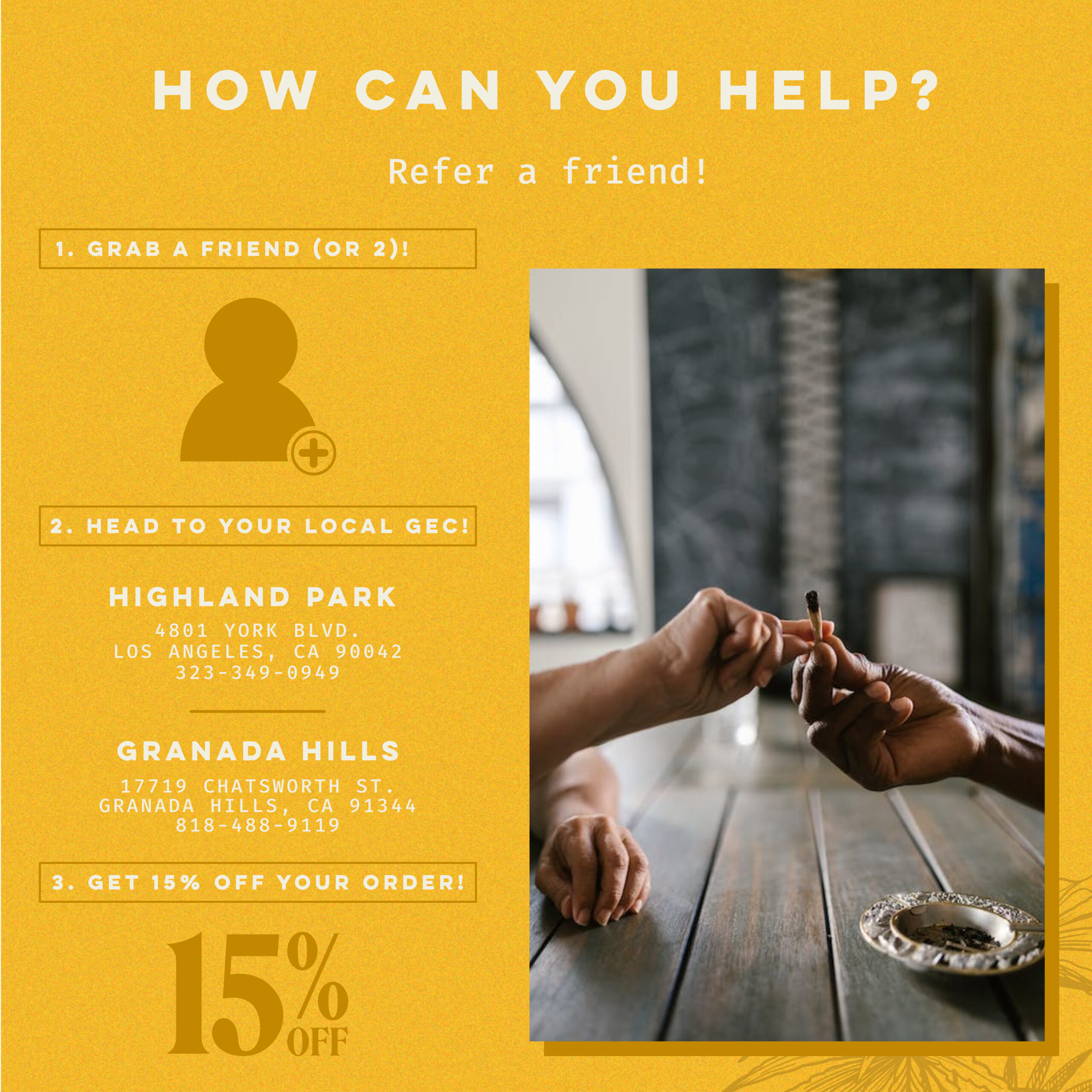 3. Provide our community with the knowledge they need
As a cannabis dispensary, customers look to us for guidance therefore it is our responsibility to give them honest feedback, thoughtful suggestions, and helpful recommendations. This year we want to make sure that our community has the essential knowledge they need to be better canna-consumers. If you have questions or concerns or just want to talk, we're here for you!
How can you help?
Talk to us! Give us a call, comment on a post, send us an email, send us a telegram! Whatever way you can, we want you to communicate with us so we can keep building this awesome community of loyal customers that want to take charge of their canna-wellness!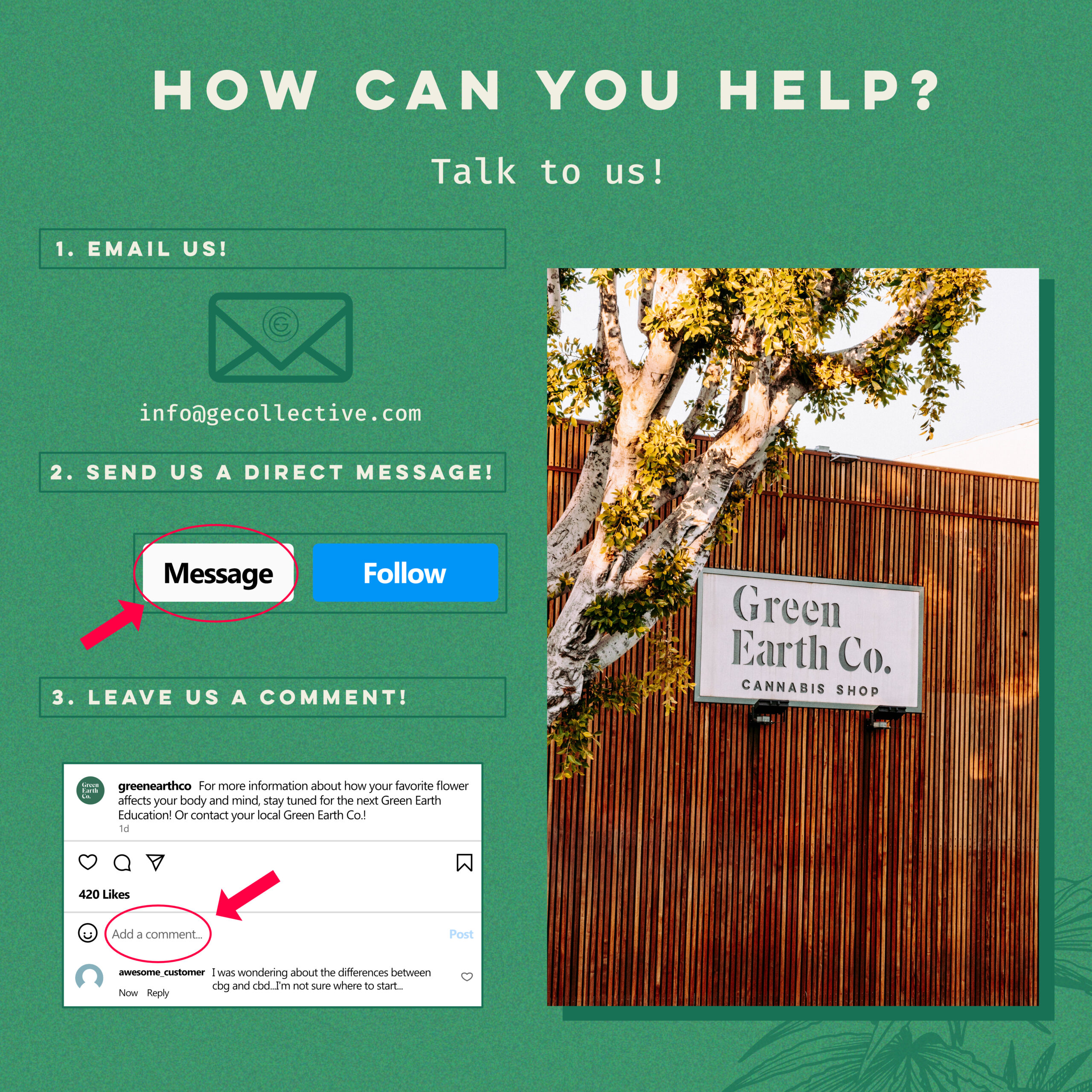 4. Give back to the community
At Green Earth Co., we support charitable organizations that have a direct impact on the communities we serve. By organizing various donations, drives and fundraisers, we aim to give back to the people that need it most. While we are grateful for the handful of organizations that we have collaborated with in the past, this year we would like to extend our reach by diversifying the organizations that we work with so as to help as many community members as possible.
How can you help?
If you know of an organization, charity or other non-profit that contributes to a cause that you are passionate about, let us know! We've worked with organizations like Hope the Mission, LA Mission, Last Prisoner Project, Making Strides, and the Balanced Veterans Network. This year, we want to expand our network of charitable organizations and we want YOU to help us!