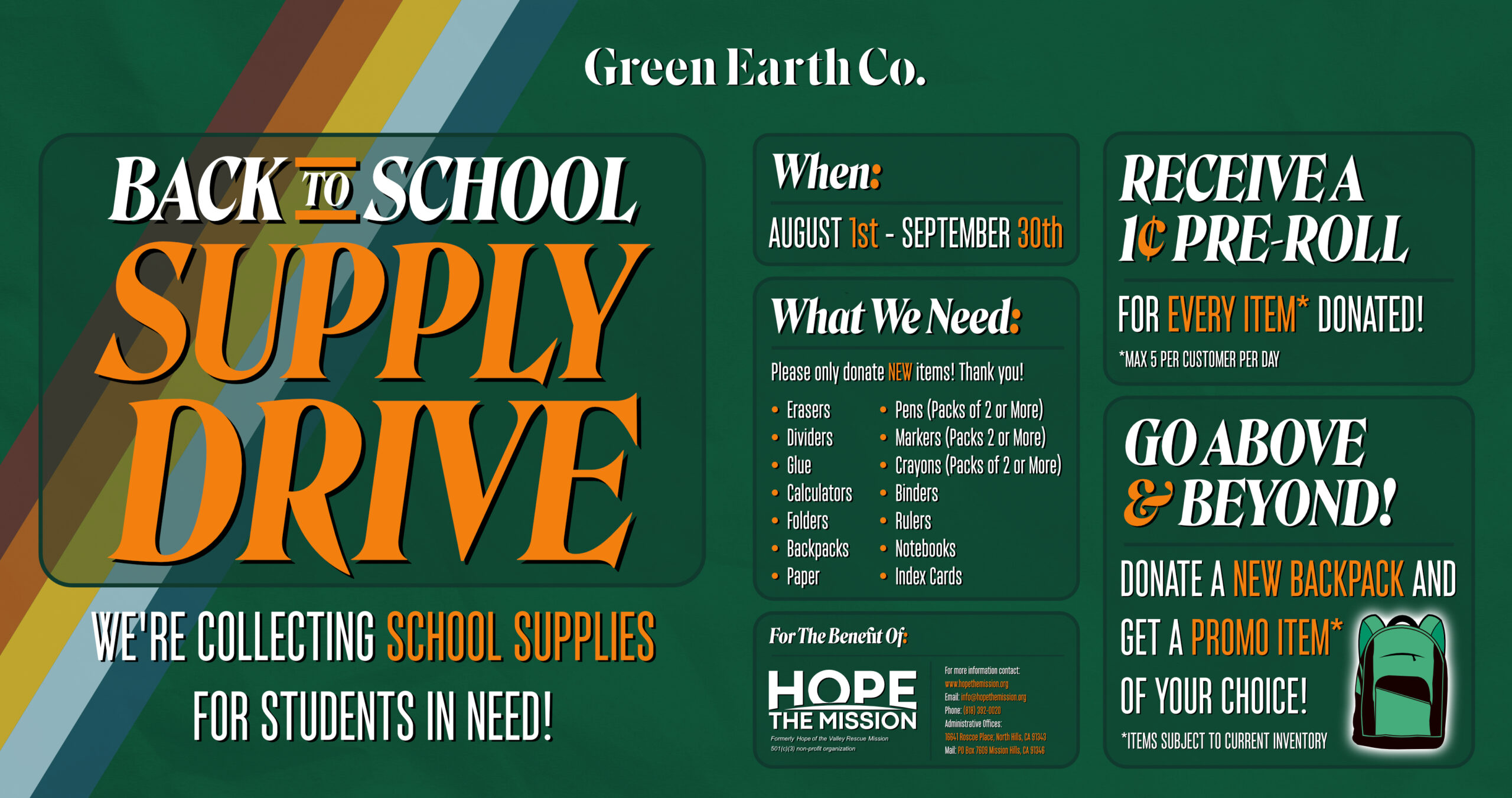 We're Hosting a School Supply Drive for Students in Need!
This August, Green Earth Co. is hosting a Back to School Supply Drive, with the generous support of Hope the Mission (formerly Hope of the Valley), a non-profit organization dedicated to preventing, reducing, and eliminating poverty, hunger and homelessness. 
Why We Do It
For many students K-12, August marks the beginning of the regular school year. While many might be eager to return to in-person learning, in the aftermath of a global pandemic and an ever-changing economic climate, some schools and teachers continue to struggle to provide or obtain adequate learning resources. 
According to a survey conducted by AdoptAClassroom.org, during 2020-21, teachers spent an average of $750 out-of-pocket on classroom supplies, with about 30% of teachers spending over $1000. Due to budgetary constraints, roughly 95% of teachers said that their classroom supply budget will not be enough to meet their students' needs 1.
Through the support of our community, we hope to equip under-privileged students and under-resourced teachers with the tools necessary to learn. With the help of Hope the Mission, contributions will be made directly to local schools both in Highland Park and Granada Hills with students and teachers in need. By inspiring our community to give back, Green Earth Co. strives to empower teachers and students to learn in an uplifting environment that is adequately resourced. 
Hope the Mission
Founded in 2009, Hope of the Valley Rescue Mission began as a small ministry run out of San Pablo Lutheran Church in Sun Valley where volunteers cooked and served hot meals to homeless men, women and children. Since then, Hope the Mission has grown into one of the leading organizations in the fight to reduce homlessness and hunger in the greater Los Angeles area.
Hope the Mission also hosts fundraising events like their annual Drumstick Dash, a 5/10k run organized in order to raise funds for the homeless and hungry in the San Fernando Valley and Greater Los Angeles area.
What We Need for our School Supply Drive
Our Back to School Supply Drive will begin August 1st and carry on through September 30th and will look to collect the following items:
Erasers
Dividers
Glue
Calculators
Folders
Backpacks
Paper
Pens (packs of 2 or more)
Markers (packs 2 or more)
Crayons (packs of 2 or more)
Binders
Rulers
Notebooks
Index Cards
Please donate items at either of our two locations:
Green Earth Co. – Highland Park
4801 York Blvd
Los Angeles, CA 90042
(323) 349-0949
Green Earth Co. – Granada Hills
17719 Chatsworth St
Granada Hills, CA 91344
(818) 488-9119
For more information about how YOU can get involved, contact your local Green Earth Co. storefront! If you'd like to know about more upcoming causes, visit https://gecollective.com/causes/
For more information about Hope the Mission, or if you or someone you know is in need of aid or assistance, please contact:
---
1 Hruza, Melissa. "How Much Do Teachers Spend on Supplies?" AdoptAClassroom.org, AdoptAClassroom, 29 July 2021, https://www.adoptaclassroom.org/2021/07/29/how-much-do-teachers-spend-on-supplies/.