Organic cannabis refers to cannabis plants that are cultivated and produced without the use of synthetic chemical pesticides, herbicides, or fertilizers. Organic cultivation practices rely on natural and sustainable methods to grow cannabis. But finding clean weed in Los Angeles isn't as simple as looking for an "organic" label. Why is that? And what is the best way to find clean weed in California? Read on to find out!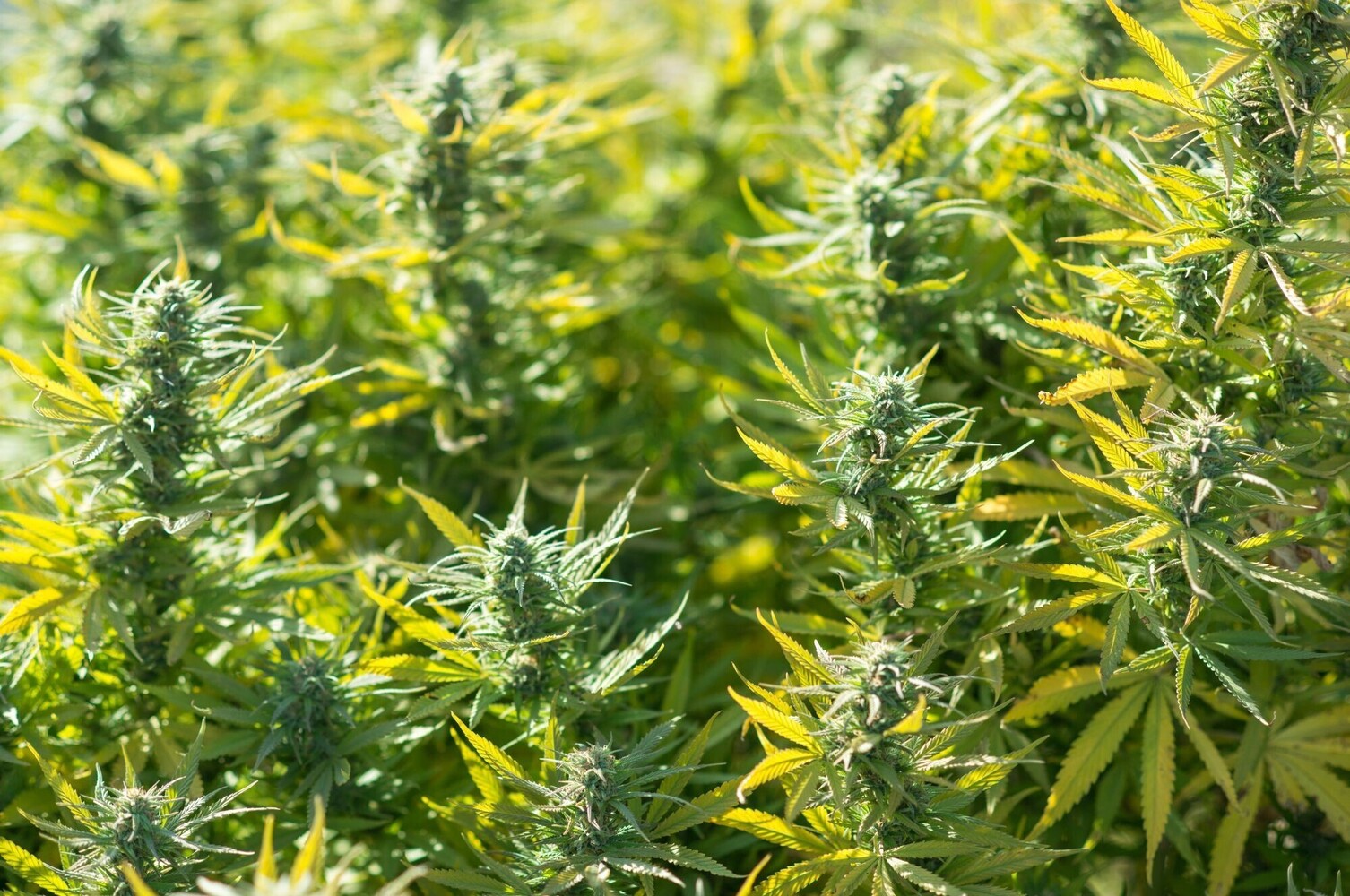 As long as it is grown using organic practices, clean weed can be grown indoors, outdoors, or in a greenhouse.
What is Clean Weed?
Clean weed is grown using organic weed cultivation methods. These typically include the use of organic soil, compost, and natural pest control measures to maintain the health and quality of the plants. Organic cannabis is often considered a more environmentally friendly and potentially safer option for both consumers and the environment, as it aims to minimize the presence of synthetic chemicals and promote sustainable and ecologically responsible farming practices.
But it's not just cultivation practices that determine what is clean weed. The way that cannabis concentrates are extracted can influence the purity of packaged weed products like extracts, vape cartridges, and edibles.
THC distillates and live resin (full-spectrum) concentrates are extracted from cannabis plants using a solvent like CO2 or butane. While these solvents are removed prior to concentrates being packaged or added to products like edibles, lots of people feel safer knowing that no chemical solvent was used during extraction. If you're one of those people who wants truly clean weed in LA, look for solventless products, also called live rosin.
---
Organic Cannabis in Los Angeles
Certification processes and standards for organic cannabis may vary by region and regulatory authority. The official USA "organic" designation comes from the USDA, and because cannabis is still not legal nationwide, it does not fall under the USDA's  jurisdiction. So if you're looking for organic weed in LA, don't look for the organic label. There are other clean weed keywords  to check for. These include:
Pesticide-free (flower)
Solventless or Live Rosin (extracts & edibles)
Keep in mind that cannabis can only legally be sold in California as long as it is below the state-mandated levels of heavy metals, pesticides, and mycotoxins. So while "organic" may mean one thing to one company and something else to another company, you can rest assured that any weed sold in a licensed dispensary contains either trace or zero levels of pesticides.
If finding clean weed in Los Angeles is important to you, it's a good idea to research each brand's specific practices and certifications to ensure they align with your preferences for organic, clean, or eco-friendly products.
---
Organic Weed Brands
If you're looking for clean marijuana in LA, check out these notable eco-friendly cannabis brands in California, which provide organic flower, live resin edibles, and solventless vape carts to folks who desire clean weed in Los Angeles:
Clean Flower: Green Earth Collective
Green Earth Co. grows premium, pesticide-free, clean weed in California, utilizing organic practices. We have facilities that produce both outdoor- and indoor-grown organic cannabis flower.
Outdoor Flower: The Green Earth Co. farm, situated in the heart of Sonoma County, grows both sun-grown and light-deprivation (greenhouse) flower that is organic. Green Earth Farms has discovered that the same favorable conditions that grapes thrive in yield some of the world's best clean cannabis. The outdoor cannabis plants at Green Earth Farms thrive on a pristine vineyard with a three-decade history of cultivating organic grapes. We've also joined forces with experienced local Sonoma cannabis cultivators to guarantee the cultivation of the highest-quality sun-grown organic cannabis flowers.
Indoor Flower: Green Earth Co.'s indoor cultivation operations are housed in a cutting-edge facility situated in Northeast Los Angeles, conveniently adjacent to our inaugural retail store. Our collaboration with renowned cultivators deeply ingrained in the traditional cannabis community has borne award-winning, exclusive strains. If you're in search of the utmost excellence, our indoor flower is precisely what you've been seeking!
---
Clean Edibles: Good Tide
When shopping for clean weed edibles in Los Angeles, look for organic weed brands that create their edible products using solventless weed extract. One brand that uses solventless ingredients is Wyld's solventless hash rosin gummy line, Good Tide.
The gummy experts at Wyld have perfected the clean weed gummy with Good Tide! In real fruit flavors like guava, mango, and pineapple, these vegan gummies contain solventless, full-spectrum indica, sativa, or hybrid cannabis concentrate. Solventless hash rosin contains a rich profile of terpenes and cannabinoids along with the 10 mg of THC in each gummy, providing a well-rounded high and effects. Ride the clean cannabis wave with Good Tide!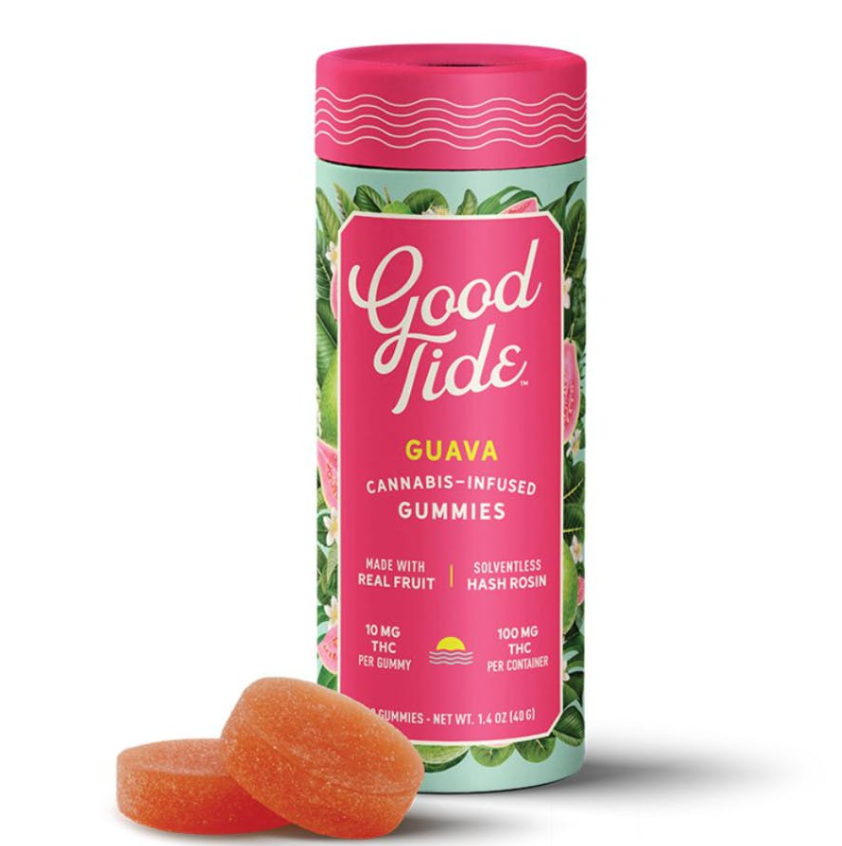 The cleanest weed edibles are made using solventless cannabis extract.
Clean Vapes: Jetty Extracts
If you're looking for the cleanest weed vapes in Los Angeles, keep your eye out for organic weed brands that utilize solventless, live rosin cannabis oil in their cartridges. One brand that has prioritized creating clean vapes is Jetty Extracts.
Jetty's line of solventless, 510-threaded vape carts features full-spectrum cannabis oil from strains like Papaya Bomb, Infamy OG, and others. Jetty's solventless concentrates are extracted using only ice, water, and pressure– never chemicals! And Jetty's signature wooden tip adds a touch of class to your clean vape experience.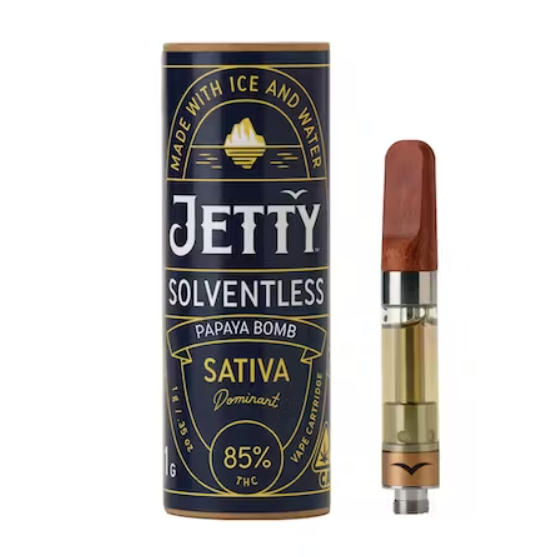 The cleanest weed vape cartridges are filled with solventless, live rosin cannabis oil.
---
Organic Dispensary in LA: Green Earth Collective
Looking for an organic dispensary in Los Angeles? Green Earth Co. is dedicated to sourcing the finest pesticide-free organic cannabis. Everything we grow, white-label, and sell is stringently tested for heavy metals, pesticides, mycotoxins and anything else that would affect the purity of the finished product.
Green Earth Co.'s line of clean cannabis flower is grown using organic farming practices and we carry a wide selection of solventless and live rosin edibles and vapes. When you're shopping at Green Earth Collective, you can rest assured that we have the organic weed brands you're looking for, and our knowledgeable budtenders can help match you with the perfect clean weed products for your needs.
Finding clean weed in California is easy when you shop at Green Earth Co.!
For in-store/curbside pickup or at-home delivery:
For in-store or curbside pickup: