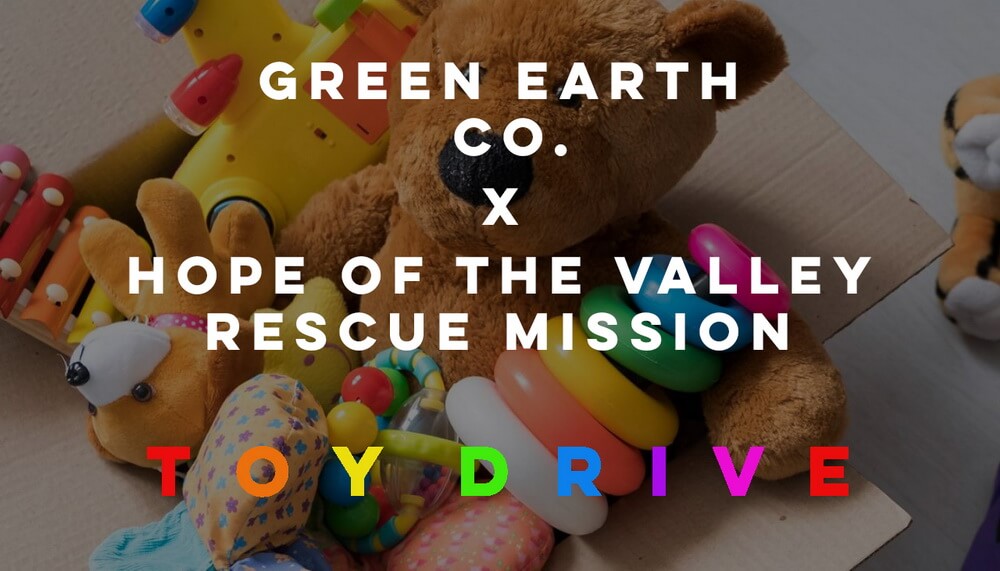 This month, Green Earth Collective is conducting a Holiday Toy Drive. Our hope is that through the gift of a new toy, we can help bring the joy of the holiday season and send a message of hope to some of our communities' less fortunate children. This December, anyone who donates a new, unwrapped toy will receive a Green Earth Pre-Roll for just a penny! (max 5 per customer per day)
 This particular Toy Drive is for the benefit of the Hope of the Valley Rescue mission, a homeless and impoverished relief organization whose recent accomplishments include  constructing the Arroyo Seco Tiny Home Village in Highland Park, the 6th, and largest of such facilities that they have created so far.
The New Arroyo Seco Tiny Home Village has 117 units and 224 beds! Filled with uplifting colorful art, the clean, well managed and maintained community opened in November of 2021. It's main function is to provide an immediate pathway for the homeless in the area to break the cycle of living on the streets and find permanent and stable housing. Tiny homes are innovative, affordable, and scalable solutions to the humanitarian crisis known as homelessness.
According to the latest homeless count, there are more than 60,000 unhoused people in LA county alone, A rising number of these are minors, many of whom are taken care of at places like Genesis, Casa De Vida and Shepherds house also run by Hope of the Valley. These Family crisis shelters are staffed 24 hours a day, 7 days a week. While staying at the shelters, families with children have access to housing navigation case management, referrals to outside service providers for medical and mental health care, parenting classes, and can receive help finding child care and employment. The majority of the families that they serve are headed by single mothers, many of whom also receive care related to domestic violence.
As you can imagine, despite Hope of the Valley's best efforts to provide a clean, uplifting environment for the children at these facilities, the young ones are still traumatized often by both the situations leading to their homelessness and the very transient nature of their unhoused lifestyle. For this reason, it is even more important for our communities to show up and provide as much cheer, hope and happiness as we can for them – especially during the holiday season. Every child should be able to feel the joy of Christmas and the holidays. By participating in this essential program, you will be a big part of making a kid's life a lot brighter!
Last year, we are so proud to say, we were able to collect roughly two crates of toys with the help of our amazing, generous community and this year, we HOPE to far exceed that amount with your help!
The Mission of Hope of the Valley is to prevent and eliminate poverty, hunger and homlessness. They do this by offering immediate assistance and long-term solutions. A faith-based independent 501(c), the non profit organization does not discriminate based on gender, age, ethnicity, sexual orientation, religious affiliation or lack thereof.. Their services are grounded in a deep respect for the dignity inherent in each human being.
Their vision includes a message of love, support and freedom for a better tomorrow. They distribute hot meals to the hungry and provide emergency and transitional shelter to the situational and chronically homeless. In addition, they provide Health services and resources for their guests as well as proven programs to lead individuals to wholeness and self-sufficiency.
For more information about Hope of the Valley Rescue Mission, and more ways you can donate goods or volunteer your time, visit their website or find them here: Hopeofthevalley.org
Hope of the Valley Rescue Mission
16641 Roscoe Place; North Hills, CA 91343
818-392-0200