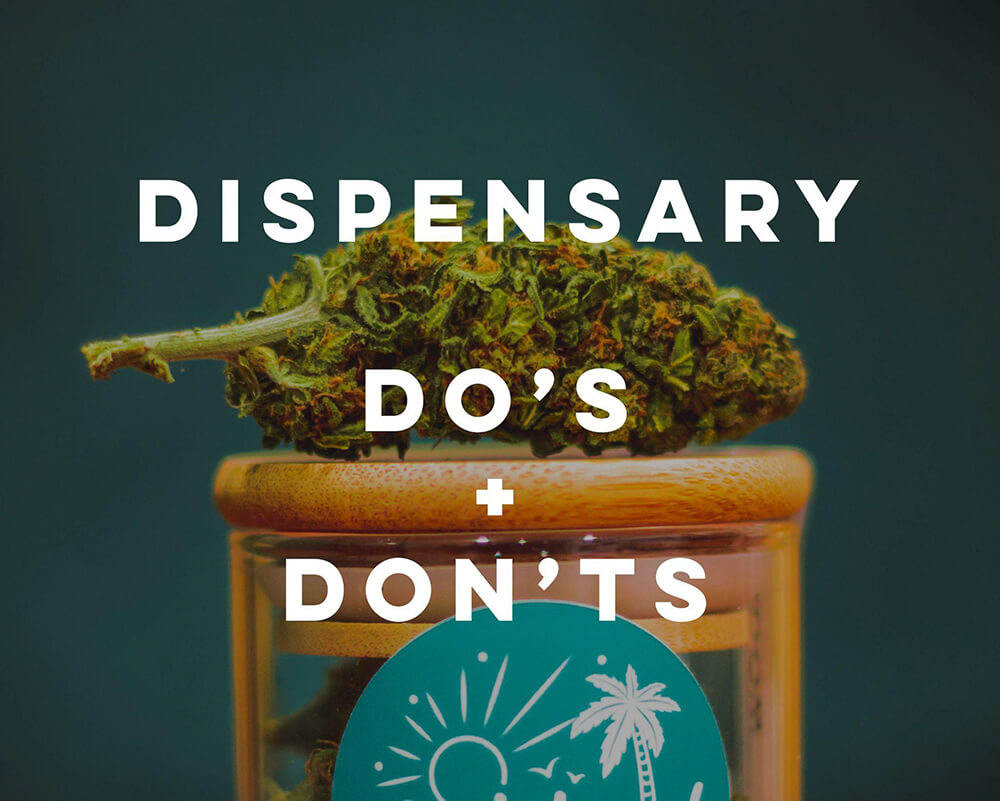 More and more people are visiting dispensaries as the stigma surrounding marijuana fades away. Because of this, purchasing cannabis has never been safer, easier or more convenient. Whether you have never been to a dispensary before, or are a seasoned patron, it is a good idea to catch up on some basics you need to know before visiting a dispensary to make sure everyone is on the same page.
Below we discuss the top dispensary do's and don'ts to help make your next visit as smooth, enriching and successful as possible!
DO come prepared
Just as with a club or bar, entry has stipulations. If you are buying for recreational use, make sure that you have a valid ID on hand. If you are unsure of exactly what you will need for entry, make sure to call ahead. If you are shopping for medical use, make sure that your medical paperwork is up to date and accurate.
Be advised that there will always be some sort of onboarding process necessary when you are visiting a new dispensary. Plan extra time and since some dispensaries only take cash, make sure to visit the ATM beforehand.
DO NOT park in the red or in the driveways of residential neighbors
Many dispensaries, including Green Earth Collective, operate in and around residential areas. If this is the case, please make sure that you are not inconveniencing the surrounding community by parking only in public parking spots. It is a big inconvenience for those in the neighborhood and it is important to take their needs into consideration.
Similarly, please make sure you park in legal parking spots. Even if you are only running in for a few minutes, it is very important to remember that you cannot park on a red curb, in front of a fire hydrant or in any spot where parking is not permitted.
DO have an idea of what you may be looking for before going
Think a bit about what your goals will be in terms of how you would like to feel, what you may be open to, and any possible issues you may currently be struggling with. You can expect to be asked if you want to feel more relaxed or uplifted. If uplifted, then how energetic do you think you'd want to be and vice versa. Think about what you may be doing while influenced by the marijuana. Having a general idea of what your needs are will help your consultation go smoother with your budtender.
If you feel like you already know what you want ahead of time, call ahead and make sure that it is currently in stock. With the growing popularity of marijuana, inventory can move super fast!
DO NOT smoke cannabis outside the dispensary
Though you may be very excited to smoke your new goodies, it is important to remember that you should not be sparking up outside of your neighborhood dispensary. Though cannabis is legal in California for recreational use, you are only able to do so in private residences and/or in establishments that have obtained the necessary permits. Public spaces, including on the sidewalk, are off limits for smoking marijana.
DO Ask Questions
Budtenders are there to help you! Whether you're a seasoned smoker or just started recently, the weed world and its endless number of options expand constantly. What may have been groundbreaking a few years ago, may now be updated or changed completely. There is always a lot to learn and know, so don't be shy and don't worry about asking obvious questions.
DO NOT litter
We realize that you may receive a lot of packaging with your marijuana products. Because of certain laws dictating how marijuana must be packaged, including making it child-resistant, even the smallest amount of marijuana may require an elaborate amount of wrapping.
Unfortunately, the bulk of weed-related packaging for things like concentrate and pre-rolls, while technically responsible, are often sorted into landfills or littered. Not only for the health and safety of your immediate community, but for the entire planet, it is imperative that you reuse and recycle your marijuana packaging instead of discarding it on the street. Do your part!
DO tip
Similar to a bartender, it has become quite standard to tip your budtender. A good guide is $1-$2 for small purchases and $5 or so for bigger ones. If you feel like your budtender went above and beyond, such as being extremely attentive or knowledgable, feel free to tip even more!
DO take note of any health issues that could affect your experience
The side effects of cannabis are not usually serious, but they do sometimes exist. Because of this, it is important to know and be aware of how your body is reacting to the substance. For example, some strains can cause rapid heart rate to some people and inhaling smoke can irritate other people's lungs. It's not just physical, Mental Health conditions are also crucial to take into consideration since certain strains can cause, or worsen, symptoms of anxiety for instance.
If you have a pre-existing medical condition, you may want to talk to your doctor about the best way to consume cannabis (if at all). If you have lung issues, for example, your doctor may recommend that you stick to edibles that don't involve the inhalation of smoke or vapor.
DO only buy what you feel comfortable with, because you won't be able to make returns.
Approach cannabis with a friendly curiosity. Be open to new experiences, but make sure to keep your finances at the forefront of your decision making. If you take the weed home, try it, and if you are not into it, you will most likely not be able to return it.
If you are looking to buy cannabis flowers, sticking to an assortment of small amounts, such as a gram, is a great place to get a feel for what you like or don't, before you make a significant commitment.
Dispensaries often have some great ways to experiment including selling single cooking and gummies that come in small packs. Sometimes, if you are lucky, they even have free samples of certain products that you can take home!