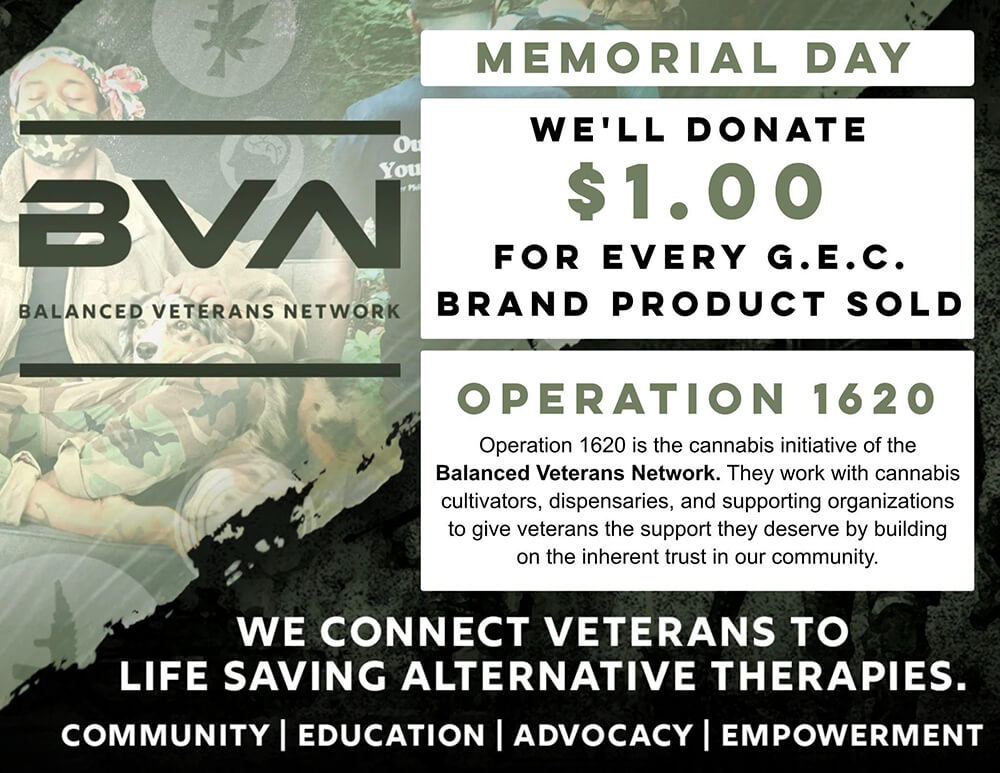 Green Earth Co. is proud to support the Balanced Veterans Network and Operation 1620. The BVN is a non-profit organization whose mission is to create a safe space for the education, advocacy, and empowerment of alternative therapies for veterans. They partner with professionals, businesses, and other organizations to support veterans and their families to live a better, more balanced life. As supporters of the BVN and Operation 1620, we believe in the healing powers of cannabis and recognize its holistic value. That is why, this Memorial Day, we will donate $1 to the Balanced Veterans Network for every Green Earth Co. Brand product sold.
At Green Earth Co., we are committed to providing equal access to the benefits of cannabis to all patrons. Perhaps the most pervasive issue facing the cannabis industry is the stigma associated with cannabis users. Not only is this stigma responsible for much of the delay in cannabis decriminalization, but it often prevents those who need it most from gaining access to cannabis. The Balanced Veterans Network looks to build a community of cannabis-minded veterans regardless of age, gender, race, sexuality, unit or branch. By creating a safe space free of stigmatization, the BVN hopes that its members, and their families, will connect with others and feel a sense of belonging. The BVN also provides financial support to its members by helping veterans acquire their MMJ at little or no cost. Part of Green Earth Co.'s mission is to educate our customers and patients and provide them the tools they need to make an informed decision. Recognizing the complex nature of cannabis, the BVN also focuses on providing its members essential information about its effects, uses, and applications. For new users barred from cannabis by fear or confusion, the BVN is a source of clarity and guidance.
If you're a veteran looking to connect with the BVN community, or If you would like more information on their services and ways to help, visit:
Balanced Veterans Network and Operation 1620
Instagram: @balancedveterans
Other resources:
Veterans Crisis Hotline
This line can be called ANYTIME for ANYTHING not just for suicidal ideations but CRISIS. They have trained professionals to help. Call 1-(800)-273-8255 Press Opt1 or Text 838255
Military One Source
Military one source can help veterans with emergency funding to help in crisis. Not everyone is approved and there is a process but we have had members find this to be a valuable financial resource.
Department of Veterans Affairs
The VA has worked very hard to provide a lot of resources and help to veterans. Using VA.Gov you can file benefit claims, educational claims and get help with anything related to your veteran account.