Attention all football (and cannabis) fans: the Super Bowl is just around the corner!! The legendary event is a yearly celebration of America's favorite pastimes: football, drinking and snacking. Because it's the biggest game of the season and you're no doubt expecting a house full of hungry fans. Even if you've enlisted the assistance of your guests and are planning a pot-luck style event, you're going to need to make a few snacks and small bites to help in rounding things out.
With Cannabis legal recreationally, and seeing as you and your guests are in and on the couch for most of the day, why not become the MVP of game-day and add a little weed to the mix by making an awesome offering of edibles for the big day? Whether you choose wings, dips, lobster mac and cheese or chocolate chip cookies, these recipes are guaranteed to make your best Super Bowl spread yet.
Basically, any dish or drink can be enhanced with THC by replacing just one or two of the ingredients. Before planning your party, we recommend stocking up on the staple edible ingredients:
Cannabutter
Canna-oil
Cannabis-infused sugar
Weed milk
Cannabis tincture
To help get you started, here is an easy, helpful cannabutter recipe for you:
Ingredients
1 lb butter
Approximately 1/4 oz (or up to 1/2 oz) of marijuana flower
Directions
Grind the flower to a very fine powder.
In a saucepan on medium heat, melt the butter together with the ground marijuana flower. Heat until the butter is clarified. Remove from heat and pour into a container. Refrigerate overnight, until the butter has solidified.
After the butter has sat overnight, microwave it until completely melted. Strain the butter through a fine mesh strainer lined with cheesecloth. Squeeze the cheesecloth to get every last drop of butter, and discard the ground marijuana. Use the butter in its melted form, or set it aside to solidify for other recipes.
Cannabis-Infused Queso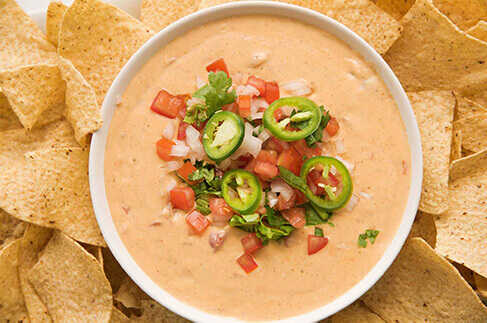 Ingredients: 
¼ cup cannabutter
1 cup of weed milk
1 cup of cheddar cheese, shredded
2 tbsp of flour
½ cup of pepper jack, shredded
¼ tsp of salt
¼ cannabis salsa
Directions:
In a saucepan on low heat, melt the cannabutter.
Once melted, add the flour and mix with the butter until combined and frothy. Congrats chef, you just made a roux.
Now mix in the weed milk.
Once the milk is combined with the roux, start adding the cheeses, keeping the heat on low until it's melted. Salt to taste.
With the cheese fully melted, mix in the cannabis salsa and remove from heat. Pour it into a bowl and serve with your baked tortilla chips.
Blazin' Buffalo Wings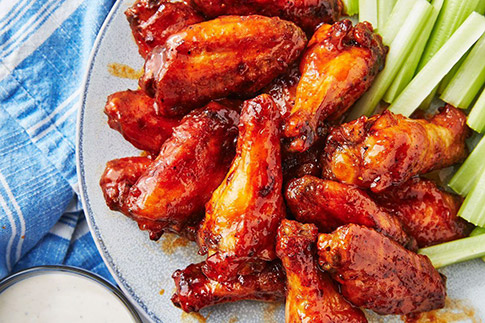 Ingredients:
3 lbs of chicken wings
1 tbsp of baking powder
1 tsp of salt
4 tbsp of cannabutter, melted
½ cup of Frank's Red Hot
½ tsp of ground black pepper
½ tsp of garlic powder
½ tsp of onion powder
1 tbsp of honey
Directions:
Preheat the oven to 400 degrees. Line a large sheet pan with aluminum foil, and set an oven-safe rack on top of the foil.
Toss chicken wings in a large bowl with baking powder, garlic powder, onion powder, salt, and pepper. Make sure to coat all of the wings evenly.
Lay as many wings on the rack as will comfortably fit. Bake for about 45 minutes, or until wings appear golden brown and crispy.
While the wings are baking, whisk cannabutter, hot sauce, and honey together in a small bowl. Combine sauce and wings in a large serving bowl, and toss well to make sure the sauce is evenly distributed. Serve with ranch or blue cheese dressing.
Lobster Lit Mac and Cheese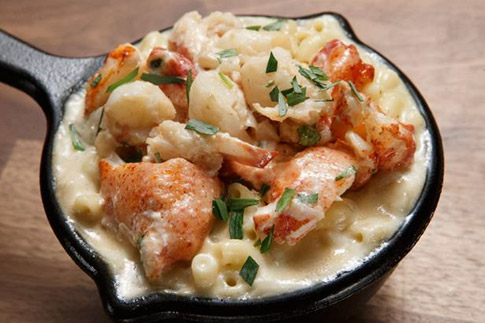 Ingredients:
1 lb of cooked macaroni
2 tbsp of cannabutter
2 tbsp of regular butter
¼ cup of flour
¼ tsp of salt
½ tsp of pepper
2 ½ cups of milk
4 oz of cream cheese
4 oz block of white cheddar cheese, shredded
4 oz block of sharp cheddar cheese, shredded
½ tsp of nutmeg
1 cup of cooked lobster meat or about 3 lobster tails
1 cup of panko bread crumbs
Directions:
Preheat oven to 350 degrees.
On medium heat, melt butter in a large skillet until it begins to bubble. Add flour, salt, and pepper, and whisk into a roux.
While continuously whisking, add milk. Keep whisking until the milk begins to simmer and is thick enough to cover the back of a metal spoon.
Mix in cream cheese, and stir. Reduce heat, and add both types of shredded cheese by the handful, stirring between each one. Add nutmeg, and mix fully.
In a large bowl, pour the cheese mixture over the cooked pasta and add lobster meat. Stir until the ingredients are evenly distributed.
Spoon the pasta mixture into an oven-safe dish or individual ramekins. Top with a sprinkle of panko bread crumbs, and bake for 30 minutes.
After removing it from the oven, the mac and cheese will need to cool for about ten minutes. Serve immediately, and enjoy!
Canna-Hummus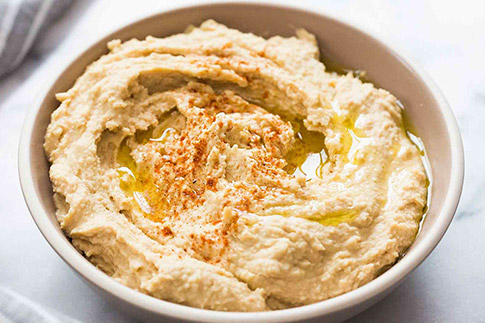 Ingredients: 
2 cups canned chickpeas (1 15-oz can)
½ cup canna-tahini (recipe below)
2 tbsp canna–olive oil + 2 tablespoons light olive oil
2 cloves garlic, peeled
2 tsp ground cumin
1 tsp sweet paprika
Juice of 1 medium lemon
½ tsp lemon zest
Salt and freshly ground black pepper
2 to 3 tbsp parsley (for garnish)
Directions:
Drain the chickpeas over a measuring cup and reserve the liquid.
Place the chickpeas, canna-tahini, canna–olive oil mixture, garlic, cumin, paprika, lemon juice, lemon zest and half of the reserved chickpea liquid into a food processor. Pulse to puree. Slowly add in more chickpea liquid until smooth. Add salt and pepper to taste.
Garnish with parsley and sprinkle with more paprika before serving.
Best served with pita chips
Canna-Tahini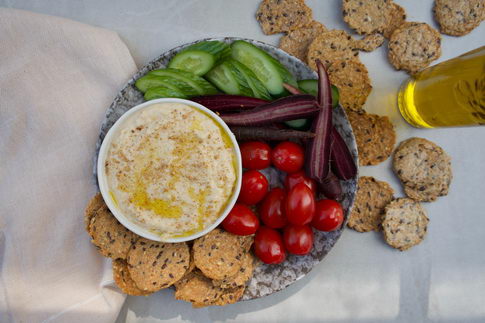 Ingredients:
3 cups raw, hulled sesame seeds (unhulled sesame seeds tend to make tahini bitter and grainy)
¼ cup canna–olive oil
¼ cup olive oil (you may not need to use the entire amount, depending on how thin you want your tahini)
¼ cup parsley, minced
Directions:
Preheat the oven to 325ºF.
Spread the sesame seeds evenly onto a large baking sheet. Roast for 6 minutes, shaking the pan every minute or so (trust me, it's worth it!). Remove seeds from the oven and let cool for 10 minutes.
Place seeds in a food processor and pulse until they become a paste. Continue pulsing while slowly drizzling in the canna–olive oil. Drizzle in olive oil until you reach your desired consistency. When the mixture is smooth and creamy, transfer it from the food processor to a medium bowl.
Mix in the parsley and serve with homemade pita or canna-garlic-infused pita chips.
Green Guacamole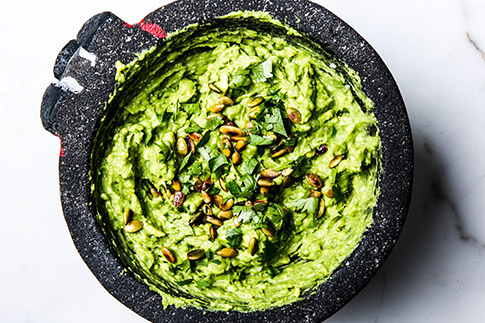 Ingredients:
3  avocados, peeled and diced (save the pits)
2 tbsp canna–olive oil + 2 tablespoons light olive oil
2 tsp Maldon sea salt
Juice of 1 lime
1 jalapeño, minced
1 garlic clove, minced
1 tablespoon cilantro, minced
½ tsp cumin
½ tsp cayenne pepper
2 plum tomatoes, diced
¼ onion, diced
Sweet paprika
Directions:
Place the diced avocados in a large bowl and coat with the canna–olive oil mixture and salt. Include the pits in a bowl with the avocados (to keep the avocado from turning brown), cover and refrigerate overnight.
Drain the avocados and mash. Add the lime juice, jalapeño, garlic and cilantro and mix thoroughly. Add the cumin and cayenne pepper. Carefully fold in the tomatoes and onion.
Place a pit in the center of the guacamole, then cover the bowl with plastic wrap and refrigerate for at least 1 hour.
Remove from the refrigerator and transfer the guacamole to a serving bowl. Sprinkle with sweet paprika and serve.
Canna-Chili Tarragon Cauliflower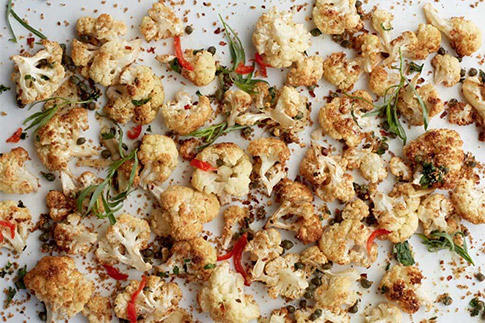 Ingredients: 
2 heads cauliflower, cut into florets
¼ cup cornstarch
2 cups light olive oil
Salt
2 teaspoons chili flakes
1 tbsp extra-virgin olive oil
3 cloves garlic, thinly sliced
2 sprigs Italian parsley, destemmed and roughly chopped
6 sprigs tarragon, destemmed and roughly chopped
⅓ cup capers
1 tbsp canna–olive oil + ¼ cup extra-virgin olive oil
3 Calabrian chilies, sliced
½ cup coarse breadcrumbs
Directions:
Wash the cauliflower and cradle in a dish towel to remove excess water. Toss the cauliflower florets in the cornstarch to coat. Shake off the excess and set aside.
Preheat a wide shallow frying pan over high heat. Fill with about 1 inch of light olive oil and lower the heat to medium.
Add the cauliflower florets, cut side down. Season with salt and pan fry over medium-high heat. As it cooks, turn each piece so all sides brown evenly. It's okay if the florets are crowded; it will create steam and help them cook through. Fry until evenly browned. Place in a colander to drain. Sprinkle with chili flakes.
Add the capers to the remaining hot oil in the frying pan and fry for about 1 minute until they puff up a little. Using a slotted spoon, remove the toasted capers to a plate lined with paper towels.
Discard the light olive oil and add extra-virgin olive oil to the pan. Add the garlic, parsley, tarragon, and toasted capers and cook over medium heat. Stir until the garlic is browned. Remove from the heat and add canna–olive oil mixture. Add cauliflower back to the pan and toss. Adjust seasoning if needed.
Transfer to a bowl, garnish with Calabrian chili and breadcrumbs, and serve
Marijuana-Infused Sausage Meatballs
Ingredients:
1 lb hot sausage meat, uncased and uncooked
1 block cream cheese, softened
2 cups Bisquick baking mix
1 cup shredded cheese
1–2 full droppers of marijuana-infused organic olive oil 
Directions:
Preheat the oven to 350 degrees F and line a baking sheet with parchment paper. In a large mixing bowl, add the sausage and cream cheese, and mix thoroughly. Use an electric mixer or a stand mixer for best results. Slowly add in the Bisquick mix and then the shredded cheese while the mixer is on.
Use an ice cream scoop to measure each meatball and line them along the baking sheet. Place the baking sheet into the refrigerator for 10 minutes to chill. (This will help the balls keep their round form.) Bake the sausage meatballs for about 25 minutes or until they're firm and browned. Makes 64 meatballs.
We hope you enjoy these cannabis-friendly versions of America's favorite Super Bowl party foods. Don't forget to properly label all infused foods and educate your guests on dosing; if there are any children present, keep infused foods in a separate area out of reach.
Chex Mix Remix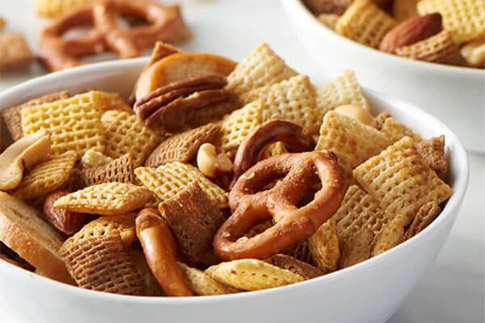 Ingredients:
3 cups corn Chex cereal
3 cups rice Chex cereal
3 cups wheat Chex cereal
1 cup smoked almonds
1 cup peanut butter filled pretzel nuggets
1 cup miniature Ritz crackers
8 tbsp cannabutter
2 tsp Worcestershire sauce
1 tsp honey
1 1/2 tsp sea salt
1 tsp chopped fresh rosemary
1 tsp chopped fresh thyme
1 tsp onion powder
Directions:
Preheat the oven to 300 degrees. Combine the cereal, almond, pretzel nuggets, and Ritz crackers in a large bowl.
In a saucepan on the stove, bring the butter, spices, salt, honey, Worcestershire sauce & onion powder to a boil. Stir until smooth. Remove from heat and pour over the snack mix.
Spread the mix on a baking sheet and bake for approximately 10-15 minutes, until dry. Let cool completely and serve.
Cannabis Chocolate Chip Cookies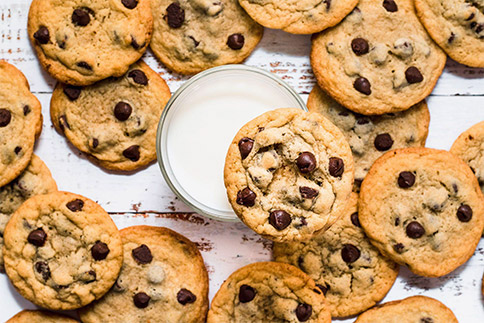 Ingredients:
1 1/3 cup of flour
1/3 cup of sugar
2/3 cup of brown sugar
1/2 cup of cannabutter
1 1/3 cup of chocolate chips
1/4 tsp of baking soda
1/4 tsp of salt
2 tsp of vanilla extract
1 egg
Directions:
Pre-heat your oven to 325 degrees and grease the baking sheet that you will be using. 
Grab a medium sized bowl and combine the 1 1/3 cups of all purpose natural flour, 1/4 tablespoon of baking soda and 1/4 tablespoon of salt. Whisk this mixture until everything is combined and then set it aside for the time being. Grab another medium sized bowl and mix the 1/2 cup of cannabutter, 1/3 cup of granulated sugar and 2/3 cups of packed brown sugar. For the best results, we like to use a mixer. Continue mixing until the contents in this bowl are creamy.
Once the mixture is all set, add in the 2 teaspoons of vanilla extract and egg. Continue mixing with your hand mixture until the butter/sugar/brown sugar combination has a light consistency, and then add in the chocolate chips. Once the chocolate chips are added, gently stir in the flower mixture from the first bowl into the second. It may take awhile, but continue mixing until you have decent looking and firm cookie dough.
Once the dough is ready, you will then spoon the mixture out into 1/4 cup cookies on a sheet and spread them out accordingly. Place them into the preheated oven at 325 degrees and let the cookies bake for 18-25 minutes. Remove the sheet from the oven when the cookies are a crisp golden brown and let them cool for approximately 10-15 minutes before removing from the sheet. Once the cookies have cooked, sit down and enjoy your hard work! Don't forget the milk!
Weed Punch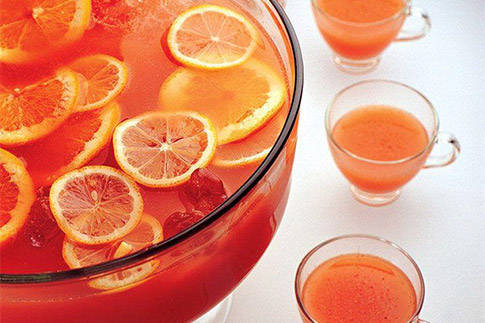 Ingredients:
6 oz | ¾ cup weed-infused absinthe (recipe below)
6 oz | ¾ cup gin
4 oz | ½ cup fresh lime juice
4 oz | ½ cup mint simple syrup
16 oz | 2 cups sparkling water
1 (750 ml) bottle sparkling wine
2 large ice blocks
1 English cucumber, peeled and thinly sliced
Directions:
In a large bowl or a 4-quart Cambro, combine the weed absinthe, gin, lime juice, and mint simple syrup and stir together. If you have time, let the mixture chill in the refrigerator for an hour or two.
Transfer the mixture to a punch bowl and pour in the sparkling water and sparkling wine. Add the ice blocks and cucumber slices. Perch a ladle on the side of the bowl and don't walk away. You need to keep an eye on your friends for this one.
Weed-Infused Absinthe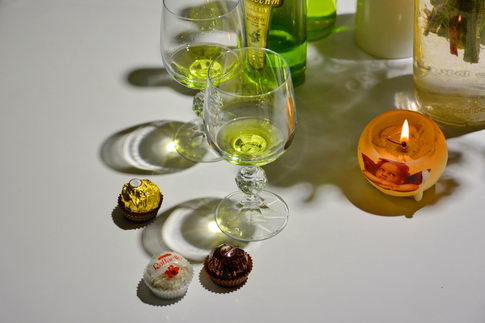 Ingredients:
Makes 6 to 7 oz
600 mg marijuana, crumbled
8 oz | 1 cup absinthe (such as St. George)
Directions:
Preheat the oven to 220°F.
Place the marijuana in a small oven-safe saucepan, cover it, and heat in the oven for one hour. The weed might look slightly brown but shouldn't look burnt.
In a double boiler, or in a large metal bowl set over a medium-size pot of simmering water, combine the toasted marijuana and the absinthe. Cover the bowl loosely with aluminum foil and cook for 15 minutes. Remove the bowl from the heat and let it sit at room temperature for one hour.
Strain the infused absinthe through a gold coffee filter into a glass container, discarding the solids. Use immediately or store the container at room temperature for up to one year.